JA Emerging Leaders Board
Author: JA of Central Iowa
Community Involvement
Published: Friday, 18 Mar 2022
---
Sharing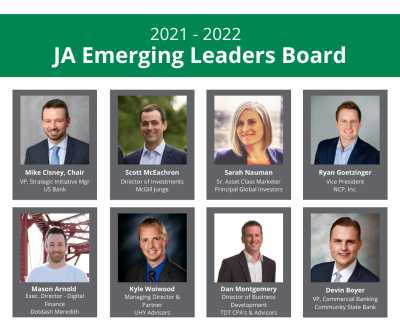 Image caption: JA Emerging Leaders Board
The Junior Achievement Emerging Leaders Board is committed to advance JA of Central Iowa through generating support among Central Iowa's young business leaders. The EL Board assists with that mission by having its members actively support the Junior Achievement organization. The JAELB will be responsible for the development of future community events, development projects, marketing, volunteer recruitment and more.
2021 - 2022 Members
Mike Cisney, Chair
VP, Strategic Initiative Manager at US Bank
Mason Arnold
Executive Director - Digital Finance at Dotdash Meredith
Devin Boyer
VP, Commerical Banking at Community State Bank
Ryan Goetzinger
Vice President at NCP, Inc.
Scott McEachron
Director of Investments at McGill Junge
Dan Montgomery
Director of Business Development at TDT CPA's & Advisors
Sarah Nauman
Senior Asset Class Marketer at Principal Global Investors
Kyle Woiwood
Managing Director & Partner at UHY Advisors
To learn more about joining the JA Emerging Leaders Board, please contact Katie Vine, Community Impact Manager at katie@jacentraliowa.org, or 515-279-9602 ext. 219.