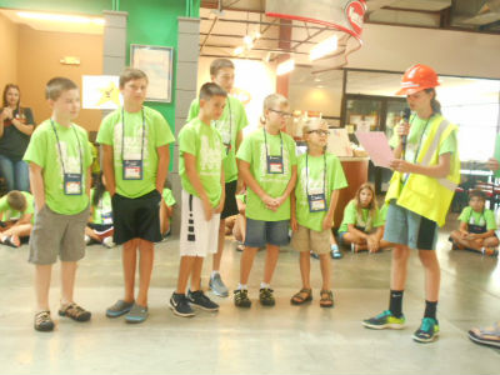 How You Can Volunteer
Volunteers are needed to mentor small groups of students throughout their day at JA BizTown. No special expertise or preparation is necessary and thorough training is provided for all volunteers! Parent volunteers should contact the classroom teacher to get involved. We have a few JA BizTown simulations that currently need more volunteers! If you are a community volunteer please sign up
HERE.
If you would like more information about how you can become a JA BizTown volunteer please contact
Shannon Gerard
or call 515.279.9602 ext 218.
JA BizTown Volunteer Training
First: Volunteer Info
Provide your information via this online form. Once completed, proceed to the next step.
Next: Online Training Video
Begin by viewing the training video below which will give an overview of a JA Biztown simulation as well as volunteer responsibilities. Once complete, proceed to the next step.
We highly recommend reading over the Employee Handbooks for the storefront you are volunteering in. If you do not know your assigned storefront, please contact the classroom teacher.
Last: Simulation Day!
The classroom teacher will be in contact with you with details about your school's simulation day. Please be sure to arrive no earlier than 30 minutes prior to the student's arrival.
JA BizTown Volunteer Check-In Process:
Upon arrival, you will:
Be greeted by a JA staff member

Sign our Code of Conduct Standards and Social Media Policy

Bring all your belongings with you into your JA BizTown business

Participate in JA BizTown business training by a JA staff member. This training will be more in-depth and business specific.

Review Emergency Procedures
Don't Forget: Bring a sack lunch and wear comfortable shoes! Please see this map for where to enter our facility the morning of the simulation.
See you at JA BizTown!